I have planed for some time to come visit Christina Miller, daughter of Heinz Miller, director of AWI, http://www.awi-bremerhaven.de/
Click the read more, to get a more detailed version, about all the delays, and how I was a seriours security/terror threat :-)

Getting to the Airport
I left Virum at 1515, and my train was cancelled.
So I ende up taking the train at 1540, I got off at Hellerup station, waited for the train that  goes directly to the airport.
The train was late, but I ended up getting on the train, then the train was cancelled, one station later at østerport.
I got on the next train, that was also cancelled, and I was stuck at Copenhagen central station.
What to do?
I has to take a cab, else I would have missed the plane.


The Airport
I got in line, got the seat, and went up to security.
Guess what?
I got stopped....why?
I forgot to remove my leatherman micro.


The knife is at the size of a normal thumb...very dangerours tool
I have travlled to chile, stavanger and even warsaw, with out any problems!!

So I had to go back, and recheck the thumb size multitool, in a big box.

Then back to security, and I just made the flight, that lift at 1800.


The Ride to Munich
Not much to tell, everything cost a furtune, I was offered to get a cup of coffe. at the price af about 3 US $....I declined.
The landring was perfect, and when I look out the window, there was SNOW!!!!


It was so beautiful, now christmas is relly comming!


The first evening in Munich
We landed at about 1930 in Munich airport.
After I have gotten my dangerous knife back when I arrived in Munich, Christina Miller greeted me, and we traved via first the s-bahn and then the u-bahn.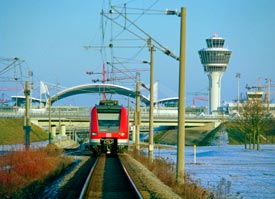 We talked a lot, and I showed my pictures from Chile, see here my my travel storys form chile
Christina also showed me a lot of pictues from Iceland, where she travled in the summer of 2003.